Published on December 4, 2019, Updated on June 1, 2023
Best dentist La Habra, California – Dr. Manali Patel DDS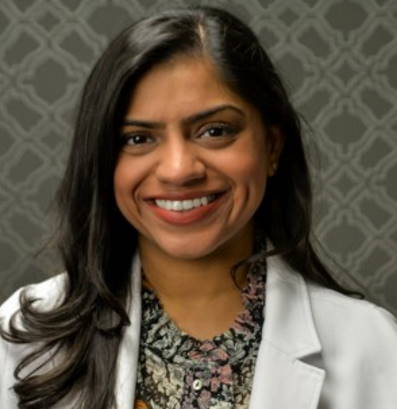 Dr. Manali Patel was born in India and grew in California. She graduated from the University of California, Irvine with a bachelor's degree in science and is a magna cum laude. As a Dean's list student at UCLA School of Dentistry, she received the best education and training available and earned a Doctorate of Dental Surgery. She obtained advanced training in full/complete mouth rehabilitation, implant installation, and restoration while enrolled in UCLA's Advanced Education in General Dentistry program.
She likes acrylic painting, landscape drawing, and yoga as a happily married woman. Her hobbies include baking and hiking, and she is always up for trying new things. She is motivated to continue learning as a result of her lifetime education in order to benefit the community even more. Every day, she aspires to be a better person.
What she enjoys most about her work is being able to help her patients realize their aspirations and seeing their delighted smiles. She enjoys seeing how their patients' smiles have improved their confidence. She hopes to earn their trust and establish lasting ties with them. One of the benefits she sees in being a dentist is that she can go to various places, such as Jamaica, on dental missions. She also intends to finance education for youngsters in impoverished nations, particularly girls.
Ask me about Straightening Your Teeth
Fun Facts
She is fluent in English, Hindi, Gujarati, and has a working knowledge of Spanish.
She enjoys teaching and serving as a mentor for undergraduate students interested in pursuing careers in dentistry.
A dentist is a physician who focuses exclusively on oral health. They are accountable for identifying and treating dental and oral cavity illnesses. All dentists, including Dr. Manali Patel, have completed 4 years of post-college training in dentistry school. They earn either a Doctor of Dental Medicine (DMD) or a Doctor of Dental Surgery (DDS) degree (DDS). Additionally, they have passed the relevant boards in the state in which they practice dentistry.
Why Choose Dr. Patel for Your Dentistry Needs?
Dr. Manali Patel is the perfect dentist in California for your oral health care needs. She has extensive experience in cosmetic dentistry and has made a commitment to ongoing education to advance her practice. Dr. Manali Patel treats her patients at Summit Smiles with cutting-edge technology, state-of-the-art dentistry techniques, and the highest quality materials. She has an uncanny ability to notice the smallest characteristics and has designed tailored treatment regimens targeted at enhancing the appearance, function, and health of the teeth and gums.
Dr. Manali Patel offers a number of dental treatments to assist you to achieve your oral health goals, whether it's a tooth filling, teeth polishing, or tooth extraction. Dr. Manali Patel can perform a variety of procedures, including tooth extractions, teeth whitening, anesthesia administration, and education about basic oral health care habits. Additionally, she may deliver Ceramic braces, Invisalign aligners, and dental implants, among other services.
Patients prefer Dr. Patel, and many share their positive experiences via video testimonials and online reviews. Dr. Patel is one of the highest-rated doctors in the La Habra, California area, having received numerous excellent reviews on Facebook, Google, and Healthgrades. If you're considering Dr. Manali Patel for your oral health treatment, we strongly advise you to peruse her photo collection for examples of her previous work. Please contact us to book an appointment and learn more about how she can help you with your oral health concerns. When you meet Dr. Patel in person, you'll be able to discuss your oral health concerns with her and learn more about our practice; as a result, you'll be more informed about the treatment options that are right for you.
Call us to Schedule an Appointment! Know more about the payment options in CA.
FAQs on dentistry
Does your doctor take my insurance?
Summit Smiles recognizes PPO and HMO insurances (when applicable). Additionally, we accept a variety of other payment methods and financing. Our benefits coordinator has vast experience working with insurance providers and will assist you in maximizing your benefits. Manali Patel, DDS
Can I make a same-day appointment?
At Summit Smiles, we care about you. We give priority to people who are in pain or require quick dental care. Call us and we'll make every effort to see you as quickly as possible.
Is your dentist a member of the American Dental Association (ADA)?
Yes. Summit Smiles office is an active member of the ADA. When dentists join the ADA, they demonstrate a commitment to furthering their careers as dental professionals. Additionally, they adhere to the highest ethical and patient care standards. Members of the ADA are known for their great work because they have access to exclusive resources that can assist them in addressing today's oral health concerns.
Does you see patients after hours and Saturdays?
Yes. Our office is available on weekdays and Saturdays to make it convenient for you. Schedule an appointment today!
Do you have a female Dentist in your office?
Yes. Dr. Manali Patel DDS is a female dentist. She has several years of expertise and is committed to providing her patients with the best dental care possible.
Are your dentists involved in continuous education?
Yes, our entire team participates in continuous education. Dental treatments have grown faster, easier, and more efficient as a result of current techniques and technologies. Our team's work will be of the finest quality if they are up to date on new methods and techniques. Additionally, they have greater experience than individuals who did not participate in continuing education.
Affordable Dentists Near La Habra, CA
If you're looking for high-quality therapy in or around La Habra, California, call us to make an appointment with Dr. Manali Patel. During your visit, you will have the opportunity to ask questions regarding the treatments we provide, how your dental health is evaluated, and the possible therapies required to resolve your oral health condition. Summit Smiles utilizes cutting-edge technology and offers a variety of payment methods.