Published on September 6, 2020, Updated on November 16, 2021
It might be difficult to live without your natural teeth. It can even get more challenging if you get removable dentures in place of your missing teeth. Whether you are new to dentures or have worn them for several years, you are aware that they do not feel the same as natural teeth. So what is a better solution? Full mouth dental implants! You can achieve the appearance and functionality of original teeth with implant-supported permanent dentures.
Contents: What are All-on-4? | Advantages? | Procedure steps | How much costs? | Appointment | FAQ
What are All on Four Implants?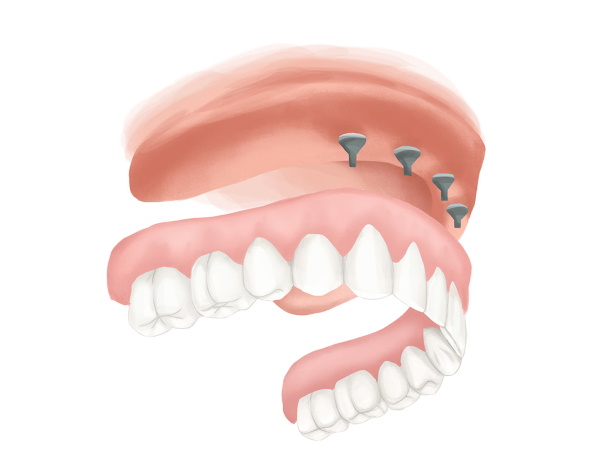 Implants, also called endosseous implants, are titanium metal screws that are surgically placed behind the gums in the jawbone. When these posts are healed and secured, they let your dentist mount your new teeth onto them. An all-on-4 fixed prosthetic is the greatest option for replacing missing teeth permanently, utilizing up to eight implants in the jaw. What makes this procedure unique is that it does not require a new root for the missing tooth. While 4 implants are sufficient to hold a full set of dentures, permanent implants can be anchored on 4 to 8 new roots in each jaw, depending on the patient's dental condition. This kind of dental restoration will restore your teeth to their natural appearance and feel, allowing you to eat and speak normally.
Related: What is a dental implant?
How do They Work?
With your new permanent dental prosthesis, it is possible to place four, five, six to eight artificial roots in each jaw. It assists in the support of removable or permanent dentures. All on four implants are the most commonly used type. Two roots are fixed on the front of the jaw and two roots are put at a 45-degree angle on the back of the jaw. If it needs additional support, the dentist can place six up to eight implants in the jaw. However, this is not a common practice as the increased number of titanium posts may need thicker jawbones.
What are the benefits of full arch denture implants?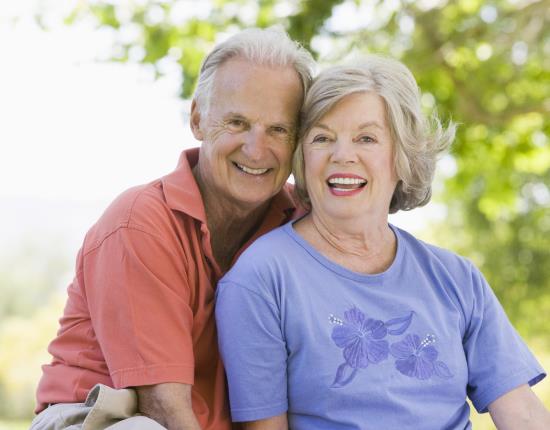 Fixed prostheses provide numerous advantages over traditional prostheses such as dentures and dental bridges. Here are some of the reasons:
Convenience – You enjoy the strength, durability, and comfort of permanent replacements. When combined with a removable or fixed pair of dentures, you can eat and speak normally again. It feels like the teeth you are used to. Thanks to the artificial root, your teeth will have a stable foundation that supports them so you can chew foods without limitations and it improves the aesthetics of your smile as well.
Quick Esthetic Results – In comparison to traditional solutions, which require numerous months before a new prosthetic can be installed around them, all-on-4,5,6 or fixed prosthetists can be placed in the teeth instantly. You don't have to wait longer to get the smile you deserve. Additionally, this treatment can be completed in a single day.
Durability – Unlike conventional dentures, dental implants don't need to get repaired or replaced frequently and they are incredibly durable. If you properly perform your oral hygiene, expect this treatment to last for a lifetime.
Quick Recovery – We make every effort to do as little surgery as possible to replace your teeth. Since permanent restorations can take four artificial roots, the recovery is easier for the patient.
No Need for Bone Grafting – A bone grafting procedure is not required in the case of the fixed prosthesis, as it can be placed anywhere in the jawbone. In most cases, the effects of bone resorption are minimal in the front jaw. Therefore, the two new roots in the front are very stable and very effective in keeping the prosthesis in place. The ones at the back are usually placed near an angle. This means the implants can be placed where there is less space in the upper and lower jawbone than usual. Mini-implants may also be used for the same reason.
Full dental implant: Procedure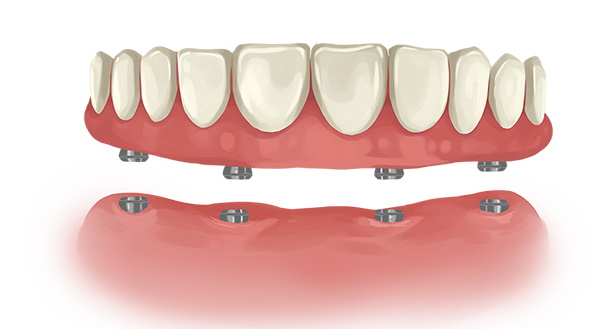 All-on-4, 5, 6, or 8 are manufactured and installed in two phases. The first phase is the placement process, and the second phase is the insertion of the implants into your jaw using an appropriate prosthetic.
Placement – Our specialists will give a local anesthetic to make the procedure as comfortable and painless as possible. Conscious sedation may be suggested if the patient is highly anxious or frightened. The surgical treatment begins with an incision across the soft tissue of the jawbone to introduce the new roots. After raising a surgical flap, a tiny hole is made in the jaw to accommodate the implant. The titanium roots are then screwed into place while applying controlled forces.
Implant Loading – Conventionally, a complete prosthesis can be fixed to the new roots with the use of abutment when the complete healing of the surgical site has occurred. However, there are new dental techniques that allow dentists to immediately load the fixtures in the jaw using the appropriate prosthesis.
How much does All-on-4 dental implant cost?
Dental implants cost between $20,000 and $30,000 at La Habra, CA. Numerous factors influence the cost of surgery, including the materials and method employed, the dentist's experience, and even the office's location.
La Habra, All-on-4 dental implant
If you desire a stunning, lovely smile and live in the area, rest assured that all on four dental implants are the ideal answer for you. If you're concerned about the expense of the treatment in La Habra, do not worry. Our La Habra, California office accepts the majority of PPOs and work with lenders such as CareCredit to provide interest-free in-house payment plans. We are delighted to serve our California neighbors with the best oral health care.
Are you looking for a fast solution for dental implants? Consider dental implants in a single day. Schedule an Appointment.
Full mouth dental implant: FAQ
How much does it cost to get a full mouth of dental implants?
Restoring the upper, lower, or even all teeth can cost up to $34,000 per plate (top or bottom). This treatment is great for patients missing several teeth in a row. The cost can be more or less, depending whether the teeth need to be moved or bone grafting is needed. See Dental Implant Cost.
Does dental insurance cover all on 4?
Most dental insurance can cover all on 4 but in most cases, the coverage is minimal. Patients should contact their insurance provider to determine the specifics of their coverage and whether or not this procedure is covered. Dr. Manali Patel DDS will assess the condition of your oral health and our benefits coordinator will verify your coverage and determine what is covered.
Are all on 4 dental implants removable?
The most general application is to insert a permanent set of teeth in four (sometimes 6 to 8) implants. It is virtually indistinguishable from real teeth in functionality and appearance. Also, it can't be removed. Oftentimes, an implant-supported denture is an alternative that consists of snap-on dentures attached to four implants and is removable. Visit Summit Smiles to learn more about dental implants.
How painful is it to get all four dental implants placed?
During the treatment the patient can feel little to no pain at all because they will be administered with an anesthesia. After the treatment and when the anesthesia has worn off, expect to feel some soreness and discomfort.
Are all on 4 comfortable?
Yes, All on 4 is a comfortable procedure because it acts similarly to natural teeth. It does not cause pain or discomfort because it functions identically to your actual teeth.
How do you clean all on four dental implants?
After the surgery, the implants can be cleaned by gently rinsing it. As the implants recover, they can be treated similarly to a natural tooth. This means that you'll be able to brush and floss your teeth as you would normally do it.
How long does all on 4 implants last?
All on 4 implants are made to last for a lifetime. The titanium posts won't get easily damaged or destroyed. With adequate care and maintenance, abutment crowns can endure 15 to 25 years.
Full Mouth Implants Near Me
Choosing a dentist who is close to your home, work, or school is critical since it can preserve a lot of money and time. You should also expect to have a few treatment and follow-up visits in addition to your routine appointments, which allows you to visit your dentist whenever it is most convenient for you. Choose a professional who has an outstanding reputation for full mouth dental implants and with whom you feel comfortable working.
admin
Bone loss may result in osteopenia, a condition in which you begin to lose bone mass, resulting in weaker bones. Bone loss may also [...]
admin
Dental implant complications are uncommon due to their higher success rate when compared to other treatment options. If there is a problem with your [...]
admin
Can older patients (over 65, 70, 80) benefit from Dental Implants? Many people begin to lose their teeth when they are at their senior [...]