Published on September 6, 2020, Updated on November 16, 2021
Contents: What is implant in a day? | Procedure steps | Why get one day implant? | How much it costs? | Appointment | FAQ
Tooth Implant in one day?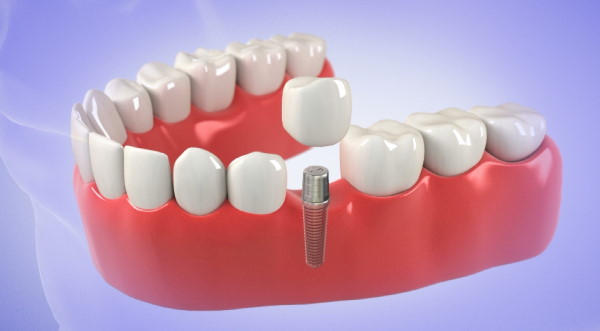 Are you tired of your dentures? Are you looking for a more lasting and secure replacement for your missing teeth? What if you could receive an implant in a single day? You no longer have to wait for weeks or months before you can eat or speak properly again. Through modern dentistry, you can bring back the normal function of your teeth and make you smile brightly again – all in just one day! It works for a single tooth, multiple teeth, and even a full mouth – getting your teeth restored is easier and can be completed in one visit. Getting a permanent teeth restoration in a day brings about the many benefits and convenience of any dental restoration methods available to date.
Implants are titanium posts made of various lengths and diameters. These posts are placed into the jawbone and serve as the tooth's prosthetic root. After placement, it is allowed to recover and merge with the jawbone. This process is called osseointegration.
Once it has fully healed and fixed itself within the bone, it is linked to a dental implant that serves as the crown for the prosthetic teeth.
In comparison to traditional implants, which can take weeks to complete, same-day restorations can be finished within a single dental appointment. This implies that you can immediately begin eating the foods you prefer following the placement of your restorations in your jaw. We understand that patients cannot go a single day without their teeth, which is why we provide the greatest quality artificial fixed teeth to our customers, ensuring that they do not have to go a single day without teeth.
Take care of your implants, view our Dental Implant Procedure Aftercare.
Implants in a day – Procedure
Before Your Same Day Placement Appointment – Before scheduling your appointment for a permanent tooth procedure, an expert dentist will first an oral examination. This is conducted to determine whether or not you are a suitable candidate for the procedure. Our experts will check your teeth via x-ray and CT Scan and 3D digital imaging reports to identify the volume and thickness of the available jawbone where the roots are placed. Careful planning will be done to streamline your placement within the day.
On the Day of Your Appointment – The abutment, temporary crown, and other tools will be ready. Since placing the tooth is a surgical procedure, it is administered with anesthesia before the start of the process. Local anesthesia or general sedative are both options available to your dentist. When you are fully anesthetized and pain-free, the dentist will create an incision in the soft tissues to expose the jawbone for the implant placement. Next, the holes are drilled to the bone and the new roots will be drilled into position by applying precise, yet controlled force. Lastly, the dental implant structure is finalized by affixing the prefabricated prosthetic to the permanent bridge.
Both traditional and same-day dental restorations are used to replace missing teeth permanently. When inserting conventional implants, dentists must wait a few weeks before placing the artificial tooth to ensure adequate bone development surrounding it. Thus, the teeth will be firmly secured in place. On the other hand, advancements in modern dentistry allow for immediate placement of the new implants into the jawbone. This eliminates the need to wait for the bones to mend or for the implant-supported dentures to be completed. We are conveniently located to assist you with these alternatives.
Why get Teeth Implants in a single day?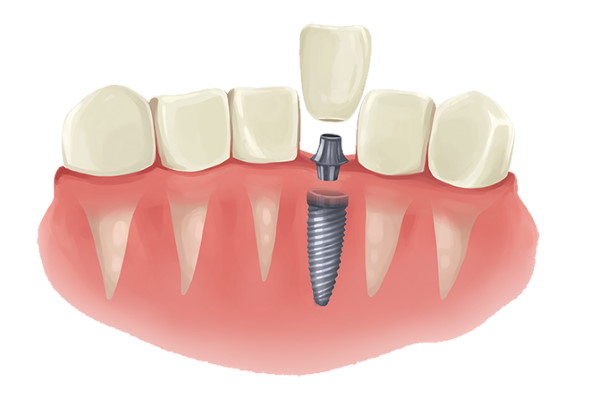 You're probably asking why you should abandon your dentures and seek dental implants in a day. To that end, here are a few explanations:
No Need to Wait! – Nobody likes to have no teeth for days or weeks while the replacement teeth are being made in the lab. We will address your oral health concerns and ensure that you have a permanent replacement choice. In this way, you can get a new set of permanent dentures in a day.
Durability – In comparison to detachable dentures that require frequent repair or replacement, your implant-supported dentures are permanent and require no maintenance. Did you know that your permanent restorations can last a lifetime with proper care and maintenance?
Natural Feeling – The implants are secured to the jawbone which offers a more natural feeling and since it feels natural, you'll be able to eat whatever you like.
Conservation of Jaw Bone Volume – Dentures can cause bone resorption. This will not occur with dental implants, as they have been shown to encourage bone development. Additionally, it can help maintain the jawbone's quality, thickness, and stability.
No Need for Removal – Teeth implants are permanently attached to your mouth. This eliminates the need to remove it at night before bed and replace it in the morning when you awaken. It also works with your normal oral hygiene just like cleaning your natural teeth. All you have to do is brush and floss your teeth regularly!
Enjoy Your Favorite Foods – Another motive to discard your old dentures is the ease with which you will be able to eat a variety of meals. With permanent dentures for the complete mouth, you may immediately begin enjoying all of your favorite foods!
Same day implant – Permanent Teeth options
Teeth in a day provides a convenient, long-lasting, and dependable tooth replacement alternative.
Single Missing Tooth Replacement – In just one day, we will replace your tooth.
Multiple Missing teeth – Replace multiple missing teeth with fixed or implant supported removable dentures.
Full Mouth Rehabilitation – Full mouth restoration can be used with the help of full mouth implants.
All on Four Hybrid Dentures – With All on 4 implants, a minimum of four posts are inserted in each jaw. They are then used to support a complete set of dentures over them.
How much does same day dental implant cost?
Immediate dental implants cost is higher because of the convenience of having the implants on the same day.
Single and multiple implants cost – The cost for replacing one or even a few missing tooth at La Habra, CA in one session can rane from $800 and $2500.
Cost of complete mouth dental implants in a single day – Replacing all of the teeth on the upper jaw, lower jaw, or even all with permanent dentures can cost between $15,000 to $30,000 for a single plate (top or bottom). This option is excellent for patients missing several in a row. The amount can go higher if if the remaining ones need to be extracted. Looking for other options near you?
La Habra, Same day dental implant
At Summit Smiles in La Habra, California we offer immediate high quality dental implants that are very affordable. Our team will ensure that our patients leave our dental clinic smiling. We provide affordable medical care in La Habra. Additionally, we take the majority of PPOs (and HMOs) and are happy to answer any inquiries you may have regarding the process or price.
One Day Dental Implants FAQ
Are same day dental implants safe?
Yes. The most major issue is only the healing process, which includes the osseointegration process, which secures the implants in the jawbone and eventually fuses them to the bone. Patients must adhere to dietary instructions during the three to six-month healing period, including avoiding hard meals, to ensure that the implants do not shift. This may result in a delay in healing and eventual implant failure. Dr. Manali Patel DDS will ensure that your dental implants treatment is safe.
How much do same day implants cost?
The price of same-day dental implants, often known as teeth in a day, can vary between $2,000 and $5,000 for just one implant to $15,000 and $30,000 for an entire arch (top or bottom). The cost is higher due to the convenience and advantages of placing the implants and dental crowns on the same day. Check out the Cost of implants.
Do teeth implants hurt?
Due to the procedure being an outpatient type, patients may feel sore once the anesthetic wears off. During the procedure, local anesthesia or sedation is administered to ensure patients won't feel any pain. Visit Summit Smiles in order to know more about caring for dental implants.
Teeth In A Day Near Me
When choosing a specialist, it needs to be near where you work, study, or go home to save time and money. There may be several treatments follow up and appointments in addition to routine visits later. If the dental office is near you, coming to the office will be more convenient. Choose a dental expert who has exceptional reviews for teeth in a day and with whom you feel comfortable interacting with.
admin
Bone loss may result in osteopenia, a condition in which you begin to lose bone mass, resulting in weaker bones. Bone loss may also [...]
admin
Dental implant complications are uncommon due to their higher success rate when compared to other treatment options. If there is a problem with your [...]
admin
Can older patients (over 65, 70, 80) benefit from Dental Implants? Many people begin to lose their teeth when they are at their senior [...]